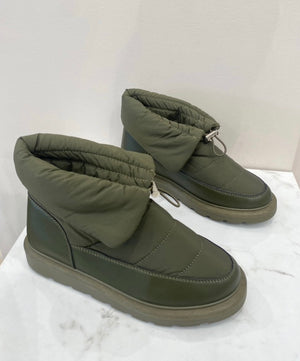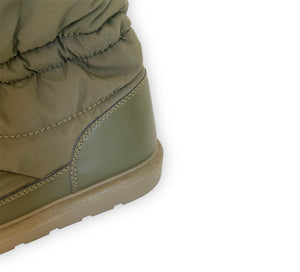 MALIEN KHAKI ANKLE BOOTS
MALIEN KHAKI ANKLE BOOTS
Details
Technical textile

Eco-friendly leather

Ultralight rubber platform

Slip-on design
Round toe
Padded inner sole for greater comfort
About me: Handmade, made in Italy - Florence
Color: beige
Style note:  These boots are super comfortable and very warm, perfect on the coldest winter days.
Eco Pelle is the Italian equivalent of "eco-friendly leather" and is a man-made leather that is very high in quality and environmentally friendly.
Some added benefits of Eco Pelle:
It's a strong material that is durable and long lasting.
Because of it's versatility, it can be produced in a variety of colors and textures.
The color can be easily controlled which requires less labor making it less expensive.
It's easy to clean and is stain resistant.
This style is true to size. We recommend selecting your standard European size.